STUDIO BACKLOT CIRCA 1934
F

amous Pictures began its operations in 1919 and was founded by Maxwell DeMille. DeMille was born in Monaco and came to New York when he was 14 years old. He started in the restaurant business in San Francisco where he entered the new film entertainment business by buying a nickelodeon. Two years later, DeMille had a business partner named Ramon Raquello. Shortly thereafter, Raquello became the orchestra director for Famous Pictures' growing chain of silent movie theaters.

With profits from the theaters, DeMille hired Famous Pictures' key to success, a young actress named Trixie Millette. She was soon known as "Everyone's Sweetheart." After several mergers, management shuffles, and a bankruptcy, the newly reorganized Famous Pictures Company emerged in 1935. In the 1930s and '40s, Famous Pictures Company was known for its big stars: Martin Crosby, Stubby Hope, Danielle Lamour, Marco Milland, Barbara Dietrich, Herman Chevalier, and the Mayhem Brothers.

Famous Pictures debuted its wide-screen Wonder-Vision in 1954 to compete with Fox's CinemaScope and Paramount's Vista-Vision. The 1950s were good to Famous Pictures. Popular stars and well-known directors made the Famous Pictures name familiar to moviegoers. The studio continues today with a tradition of quality motion picture entertainment.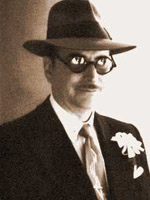 MAXWELL DEMILLE
Contact:

~ ALSO VISIT ~

MAXWELL DEMILLE PRODUCTIONS
© 2023 FAMOUS PICTURES COMPANY - ALL RIGHTS RESERVED

===